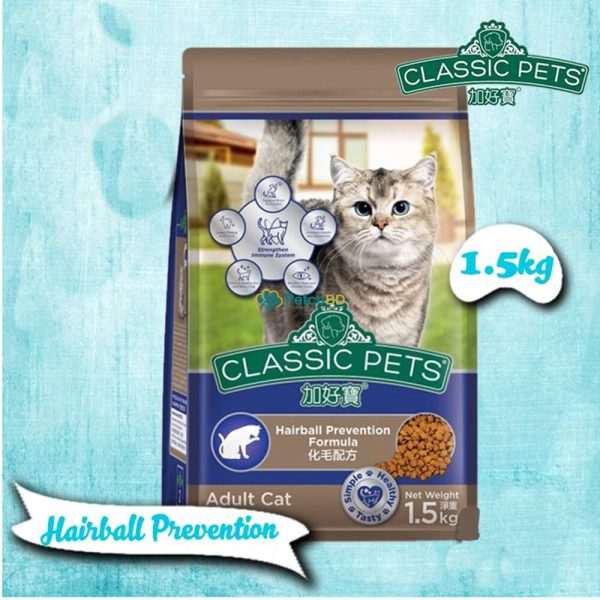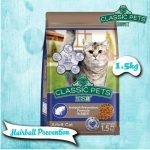 Classic Pets Hairball Prevention 1.5kg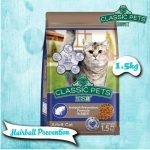 Classic Pets Hairball Prevention 1.5kg
৳ 550.00
৳ 550.00
Features & Benefits:
Brand: Classic Pets
Flavor: Hairball Prevention Formula
Size: 1.5 Kg
Protein – min 27%
Crude Fat – min 9%
Crude Fibre – max 4%
Moisture – max 9%
Description
Classic Pets® Adult Cat Food realizes the elementary need of your cats. Classic Pets® Adult Cat Food has been delicately formulated to contain an optimal level of carbohydrate, protein and fat, plus multivitamins. A suitable level of Vitamin A, E and antioxidants found in Classic Pets® Adult Cat Food supplies your cat cats with a natural source of healthy immune system. Specifically, to tackle with hairball accumulation, natural cellulose is specially added into Classic Pets® Adult Cat Food Hairball Prevention Formula to help control hairball formulation which is the main cause of digestive disorders frequently found in cats. Supplementary natural cellulose helps to safely and naturally move hair through cat's digestive system, and prevent hairball from developing.
Ingredients: Cereal, vegetable protein, animal protein, cassava pellets, chicken fat, wheat bran, fish meal, Fish oil, carrot meal, vitamins and minerals, taurine, antioxidants.
---
Only logged in customers who have purchased this product may leave a review.